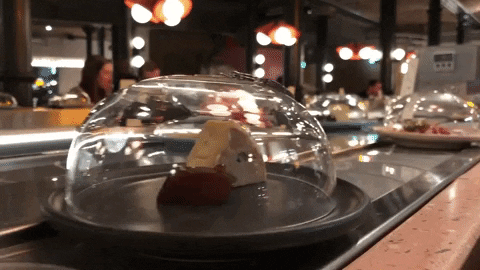 Look at it go!!
So what do we need to know about Pick & Cheese?
In a nutshell, it's a conveyor belt cheese restaurant. Think Yo! Sushi but with British cheese and charcuterie.
It's caused quite the stir all over the world with everyone from the New York Post to the Times of India writing about it. The folk responsible for this groundbreaking spot are The Cheese Truck, purveyors of top drawer grilled cheese sandwiches at Maltby Street Market and who also have a (non-moving) counter restaurant at Camden Market.
Where is it?
You'll find it on the ground floor of the new Seven Dials Market by Kerb, which has recently opened in the 19th century Thomas Neal's Warehouse in Covent Garden. Where there once used to be clothes shops, you'll now find artisan food stalls, bars and a range of food kiosks.
As you enter, there's a galleried section before you walk down to the main range of kiosks and communal seating. Pick & Cheese takes up the biggest portion of the gallery section on the right. Tube-wise, you're closest to Covent Garden.
Where should we meet friends for a drink first?
The obvious answer would be here. On the same level as The Cheese Bar is Square Root's temperance bar serving up botanical and seasonal sodas. Downstairs you'll find the Seven Dials Market bar, with a range of local beers, cocktails and wine on offer. Unless you somehow manage to find a window of opportunity, you're almost definitely not going to get a seat on arrival. They're using the tock system so give them your details and they'll text you when a place is free.
Where should we sit?
Anywhere you're given, seeing how busy it is. But, that said, they do have a couple of booths available adjacent to the conveyor belt, which are better for groups and can sit between 5-6 people. These can be reserved in advance.
So how does it actually work?
Pretty much as you'd expect. There are five different colours of plates, denoting the prices of dishes ranging from £2.95 through to £6.10 - the largest selection comes in the £4.40 bracket. There are also a small selection of off-belt dishes that you can order from your waiter. Each dish features a cheese or selection of charcuterie paired with various condiments - and all the food comes from the UK and Ireland.
You can either gaze at it going round on the belt and take your pick, or - if you'd like to make things easier on yourself - the menu also suggests a flight of dishes and wine pairing you could go for instead.
Here's a selection of what we had:
Londonshire from Tottenham with honeyed Garlic (£4.40) - VERY low food miles.
Baron Bigod from Suffolk with Mushroom Duxelle (£5.25) - you can pretty much see how well these two go together.
Gubbeen from Cork with Sweet & Sour Pineapple (£3.75) - cheese and pineapple for the 21st century.
Mayfield cheese from East Sussex with Garlic Roasted Cipollini Onions (£2.95)
And what about those off-belt specials?
Also, very much worth trying. Here are the two we had.
Angloumi Saganaki - Pan-Fried Angloumi drizzled with honey and lemon (£8)- we've had this London-made take on halloumi before and it's unmissable.
Blue Cheese Soft Serve - made in conjunction with the folks at Happy Endings, this mixture of Beauvale cheese with pear coulis with shards of honeycomb and chocolate shaving (£5) sounds utterly crazy but tastes wonderful.
What about the wine side of things?
As they've done at Camden, the list here is producer-led and there are some particularly interesting wines by the glass. There's also a lot available by the taster glass size (75ml) if you want to properly do a pairing with every dish you try. So if you've never had a Pet Nat from Davenport winery in Kent or tried London's only sparkling wine, from Forty Hall in Enfield, then this is your chance.
Overall thoughts
It's an absolute given that there will be some people out there who won't like Pick & Cheese and who just don't get it. But not us. We think it's a hugely enjoyable idea, executed with love and passion for British and Irish cheese.
Instead of thinking of this as somewhere to go and have a full meal, why not think of it as one element of your day or night out. Come here for a couple of plates and some lovely wine in the middle of a Saturday afternoon - or for the cheese course after your dinner. But do come here - you'll be glad you did.
More about Pick & Cheese
Where is it? Seven Dials Market, Thomas Neal's Warehouse, London WC2H 9QW
How to book: Most of the seats are for walk-ins only, but there are two booths which you can book here.
Find out more: Visit their website or follow them on Instagram @thecheesebarldn
Subscribe to be the first to get the news from Hot Dinners